Checkout Securely With


✓ Marine 10x50 Binoculars. Binoculars with 10x magnification and 50mm large objective lens. Field of view is 396 feet at 1000 yards,with ±5 diopter left and right diopter ring. You can adjust the distance for better viewing without glasses and for fine focusing. The eyecups can be folded easily you can operate it with glasses.
✓ High Quality BAK4 Prism Binoculars. High refractive BAK4 Prism eliminates the stray light and improves color reproduction to 99.99%. Green FMC coating reduces the reflected light in the objective lens and improves light transmission, makes image brightness and image sharpness.
✓ Waterproof Binoculars. Binocular comes with nitrogen-filled waterproof, fogproof design. O-ring sealed for complete waterproof and float on water so no worries if dropped into the water.Dry nitrogen-purged and sealed to prevent fogging and moisture damage in all weather conditions, highly durable.
✓ Binoculars with Rangefinder & Compass. Binoculars illuminated compass built-in for direction location, with an internal rangefinder for calculate the distance and size of the object on the left eyepiece directly. Perfect binoculars include batteries(LR936/AG9), provides the maximum brightness of the image even in low light conditions.
✓ Comes with Bag, Neck Strap and Tripod Adapter. It is easy to use, carry and store. Ideal For Travel, Concerts Outdoor Activities, Bird Watching, Climbing, Archery, Hiking, Camping, , Boating, Target Shooting, Water Sports. It is a perfect holiday gift choice.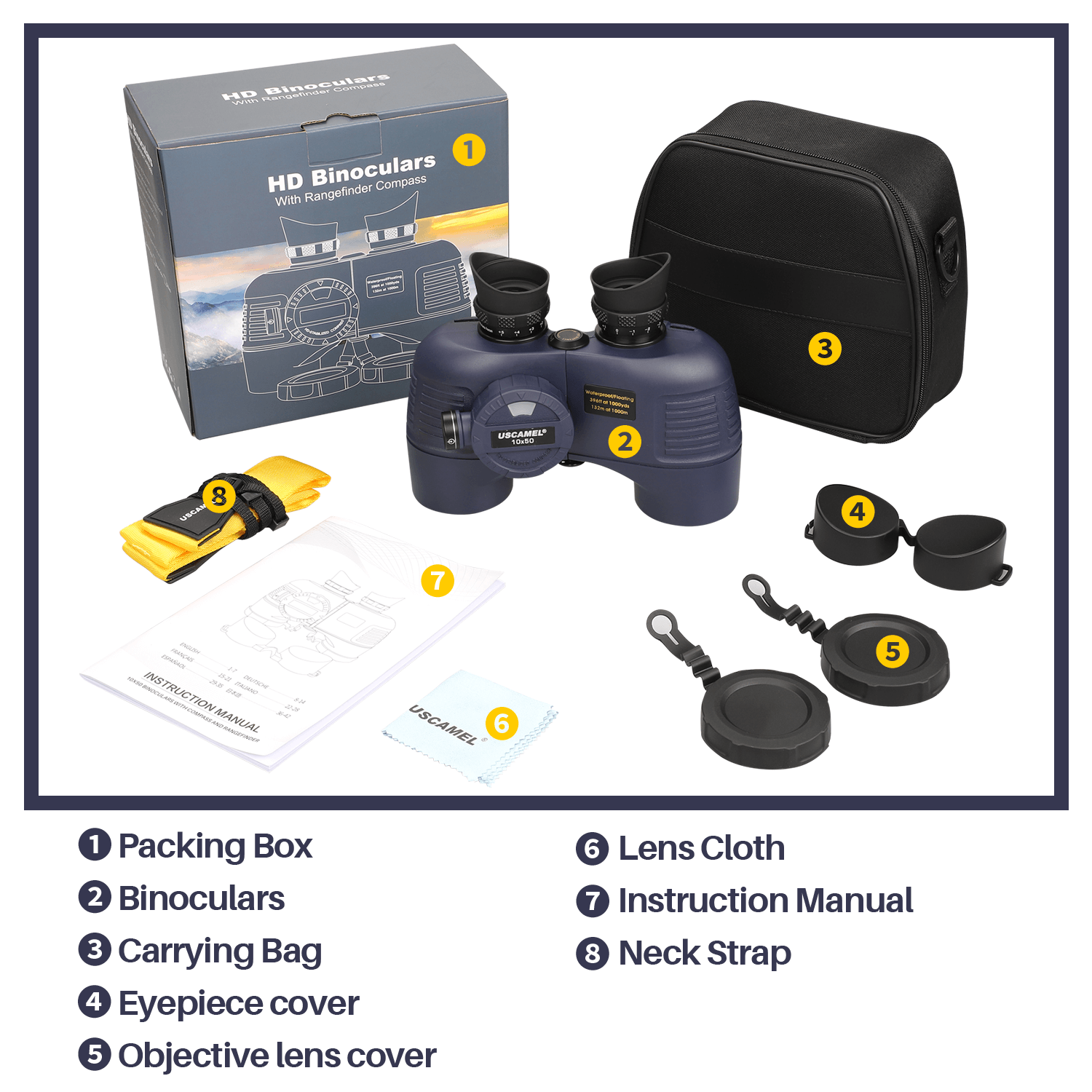 Specifications

Model

10X

Objective lens

50mm

Prism Glass
BAK4
Coating
FMC
Focus System
Left + Right Eyepiece

Field Of View

396 ft /1000 yds

Tripod Adaptable

Yes

Eyepieces

K25mm, K17.5mm, K9mm

Magnification
16X, 23X, 44.5X, 48X, 69X, 133.5X
Tripod height (adjustable)
57 - 121cm (22.4 - 47.6inch)
Assembled Weight
3.1kg(6.8lb)
Package Includes
Telescope x 1
Eyepiece x 3 (K25mm, K17.5mm, K9mm)
3X Barlow Lens x 1
Tripod x 1
Smartphone Adapter x 1
Shutter Release Remote Control x 1
Cleaning Cloth x 1
Manual x 1
Carrying Bag x 1
Solar Warning
For the safety of you and the people or environment around you, please
1. Don't aim your telescope at the sun, or anywhere near the sun! Instant and irreversible damage can occur, including blindness!
2. Don't let children use any telescope without adult supervision at any time.
3. Avoid sudden temperature fluctuations as the moisture in the air will condense on the objective lens. Should this happen, then place the objective lens not too close to a source of heat and allow the moisture to evaporate slowly.
4. Don't try and use it by aiming through a window indoors. If the window is closed, the window glass will produce reflections and distortions. If the window is open, the moving air currents of different temperatures will cause distortions.
5. When mounting the parts ensure that the securing screws are not tightened too tightly. Tightening too tightly could result in damage to the parts or the internal thread of the holders.
User Manual