Checkout Securely With


✓ High Magnification Microscope for Adults. 25X widefield eyepieces alone or with 2X Barlow lens and 4x 10x 40x rotating objective lens. The biological microscope provides 6 magnification settings, 100x, 250x, 1000x, 200X, 500X and 2000x. 6 different multiple combinations will show you the wonderful micro world.
✓ Dual Illumination System. The microscope has an incident and transmitted LED light sources, Dual LED illumination system has a separate switch and brightness adjustment Knob, which meets different lighting brightness requirements. 0.65 NA single-lens condenser with disc diaphragm, provide high-resolution color-corrected images.
✓ High-quality Materials and Precise Focus. Microscope with solid metal base and sturdy handle framework won't make microscope shake. The adjustable focusing wheel lifts the sample table, and the focusing knob ensures details and accurate focus adjustment, making the image clearer. 45° observation angle to achieve a comfortable observation effect; 360° rotation, the angle can be adjusted according to the observation habit and position.
✓ Complete Science Accessory Kit. The microscope comes with a phone adapter that allows you to capture and record beauty all around you with a smartphone. You can share pictures or videos with your families and friends in real-time. It comes with 10 operating accessories and a box of microscope slides (10 prepared slides & 5 blank slides). Meet all the needs of biological observation.
✓ Explore The MicroWorld. This biological microscope is designed to help beginners, kids, and students explore the fantastic micro-world of life sciences. It is ideal for home education, school, and laboratory. Please contact us if you have any problems.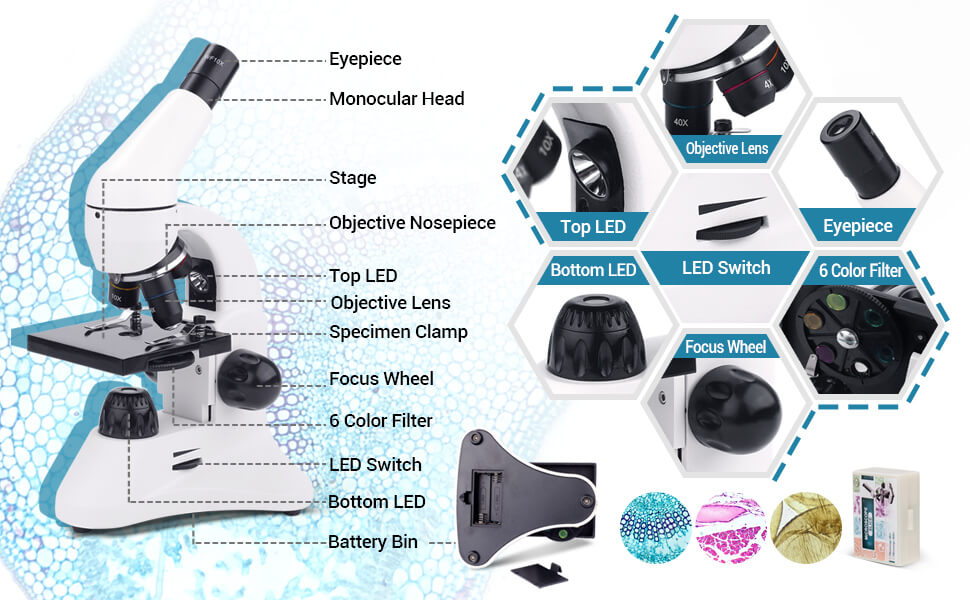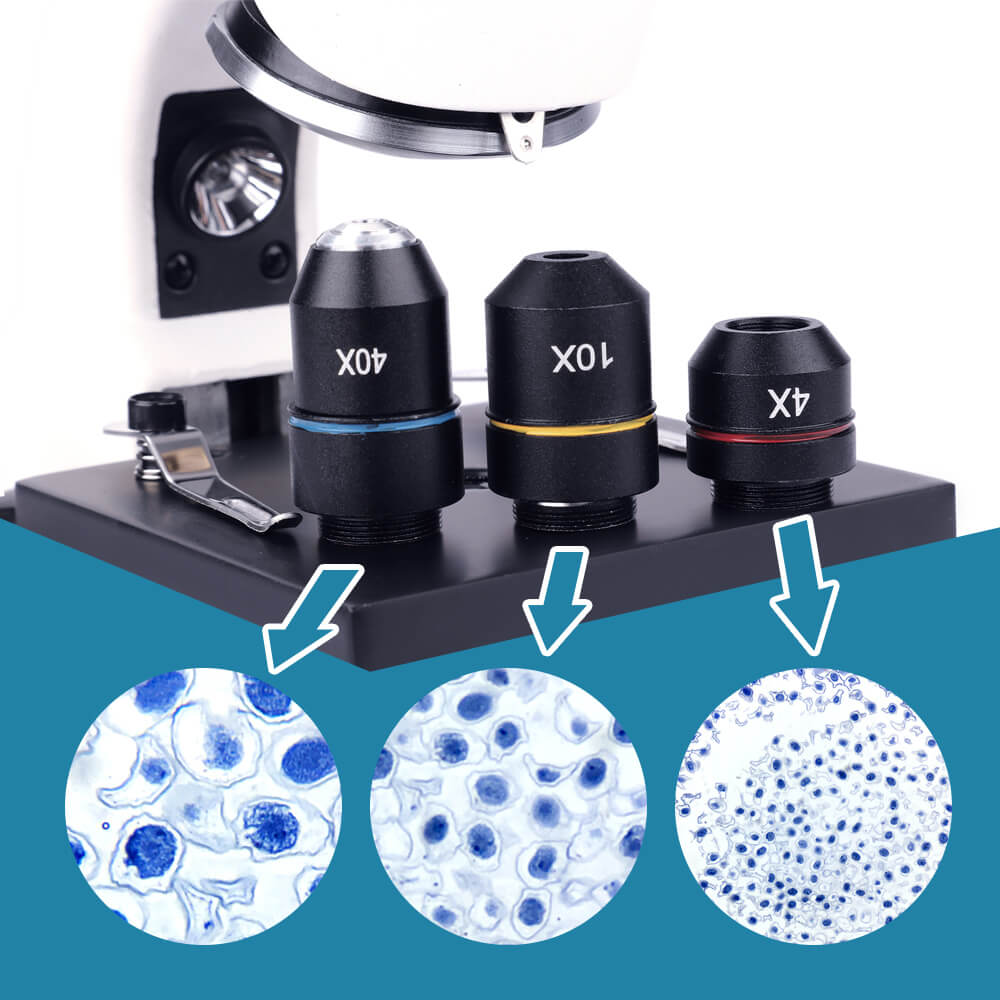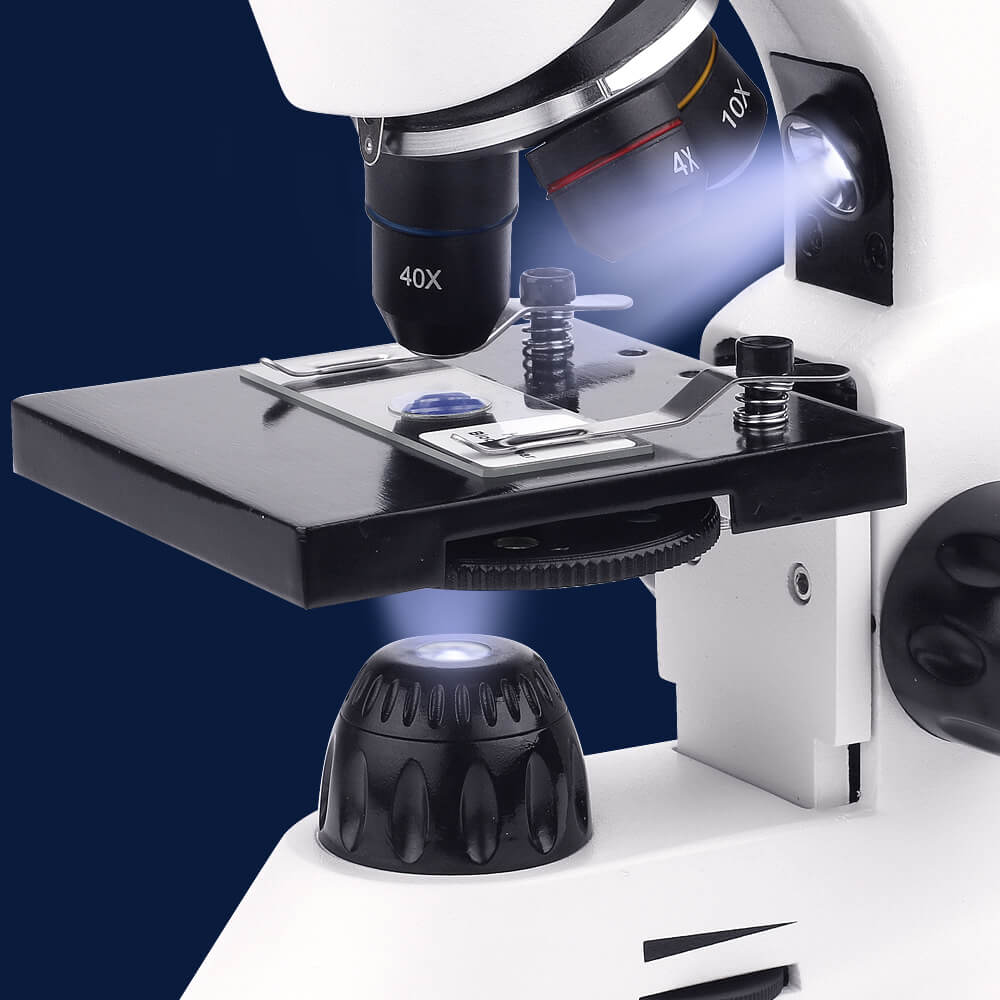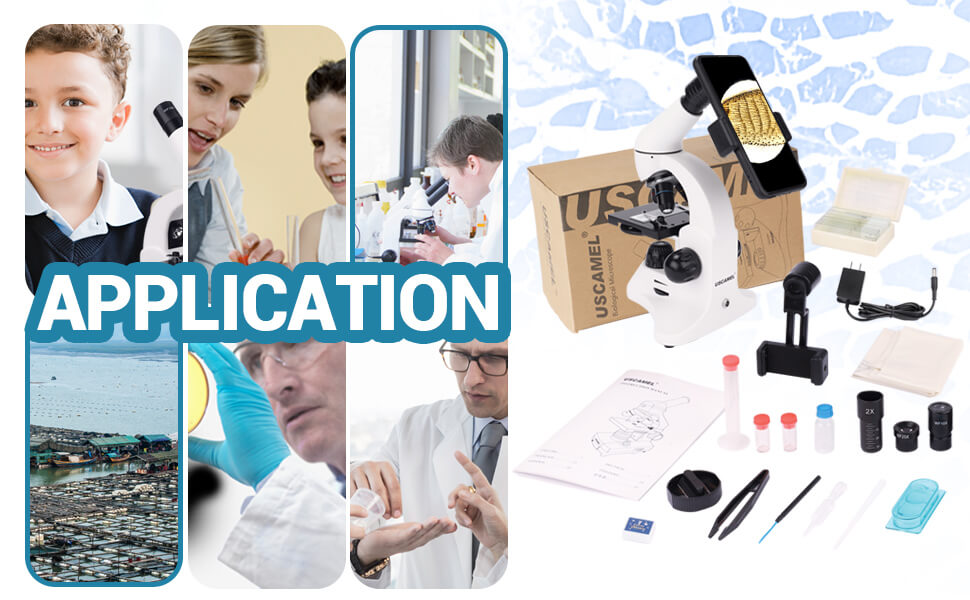 Specifications

Model
USCAMEL UX002 Biological Microscope
Magnification Settings
100x - 2000x
Notes, the 2000X needs WF25X eyepiece, 2X Barlow lens, and 40X objective lens.
Stage
Simple stage with slice clamp 90*90mm
Focusing System
Course/Fine range 13mm
Illumination
110V or 2 AA batteries
Dimensions
11.6*6.3*2.2inch
Weight
3.75lb
Package Dimensions
14.37 x 8.07 x 7.52 inches
Item Weight
4.66 pounds
Weight
105.82oz (3000g)
Batteries
2 AA batteries are required. (included)
Package Includes
1*Microscope
1*Wide-angle eyepiece (25X)
1*Barlow lens (2X)
1*Slides set(10pcs prepared slides and 5pcs blank slides)
1*Operating accessories set
1*adapter
1*Power Adapter
1*Cleaning cloth
1*Manual
1*Box